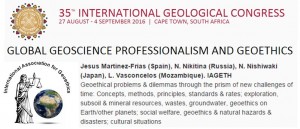 IAGETH organizes a session on Geoethics in the 35th IGC, 2016, Cape Town, South Africa
The International Association for Geoethics (IAGETH) is the only international organization linking geosciences and ethics which is affiliated to two ICSU GeoUnions (IUGS and IUGG) and the responsible for the first official incorporation of Geoethics in Africa. IAGETH and GSAF (Geological Society of Africa) signed a MoU on the 26th Abril, 2013.  Geoethics was included, in March 2014, in the Deontological and Ethical Code of the AGMM (Mozambique's Mining Geological Association), Mozambique. 
IAGETH organizes a session on Geoethics in the framework of the 35th International Geological Congress (35thIGC).
Core Topic: Geoscience for Society.
Theme: Global Geoscience Professionalism and Geoethics (Theme Champions: Ruth Allington, Oliver Bonham, Andy Clay)
IAGETH Session:  Geoethical problems and dilemmas through the prism of new challenges of time
Convenors: J. Martínez-Frías (Spain), N. Nikitina (Russia), N. Nishiwaki (Japan) and L. Vasconcelos (Mozambique)
We encourage you to submit your abstracts to this sesión!