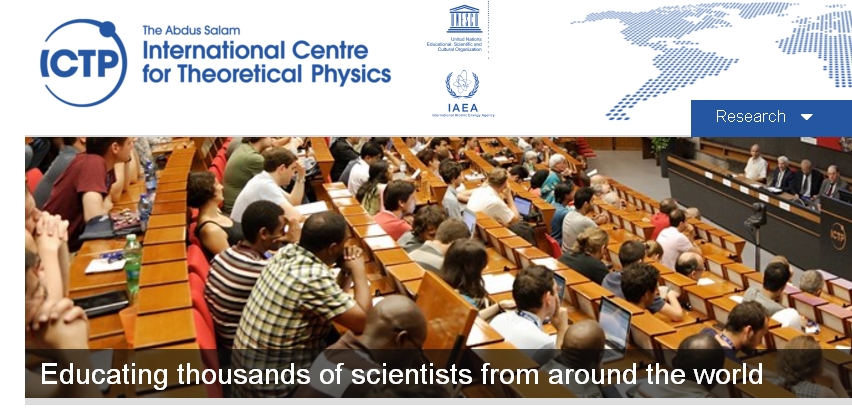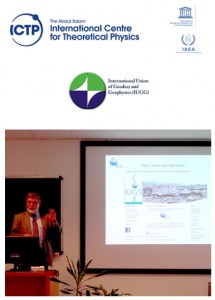 Geoethics was present, in connection with geoeducation, in the prestigious ICTP (Trieste, Italy)
The International Union of Geodesy and Geophysics (IUGG) and the Abdus Salam International Centre for Theoretical Physics organized an extremely interesting and significant Conference on Future of Earth-Space Science and Education. The Conference was held in the prestigious Abdus Salam International Centre for Theoretical Physics (ICTP). The main different subjects were:
Future Earth and sustainability
The world without disasters
Climate change and future generations
Earth, space, and planets
Future geoscience and education in the developing world
The Director of the Conference was Prof. Dr.  A. Ismail-Zadeh ,Karlsruhe Institute of Technology, Karlsruhe, Germany and the CTP Local Organizer was Dr. Abdelkrim Aoudia
In this framework, one of the invited speakers was Prof. Jesús Martínez-Frías (introduced as Chair of the IUGS-COGE and President of IAGETH). In his talk, entitled "Geoscience Education and Technology Transfer" he provided a general overview and state-of-the-art about geoeducation in Earth and Space Science, describing the main objectives and challenges and giving some specific examples, stressing the significance of the link between geoeducation and geoethics and the activties carried out in ths regards by the International Association for Geoethics (IAGETH).
The International Association for Geoethics (IAGETH)  is the only geosciences-related organization, which is affiliated to two ICSU GeoUnions (IUGS and IUGG) and which integrates the subjects of Earth and Space Sciences and Astrobiology.
 IAGETH congratulates Prof. Ismail-Zadeh and Dr. Abdelkrim Aoudia for the organization of this extraordinary event!