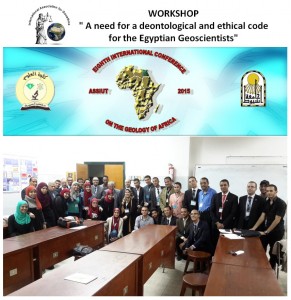 The Geology Department of Assiut University invited scientists to gather in the capital of Upper Egypt for the Eighth  International Conference on the Geology of Africa (ICGA 2015), 24-26 November 2015
This conference is the premier forum for the presentation of new advances and research results in the fields of theoretical, experimental, and applied geological sciences.
In the framework of this international conference, a specific workshop about deontology and ethics was promoted and organized by Dr. Enas A. Ahmed (IAGETH member, Egypt) and Prof. Zakaria Hamimi (IAGETH National Chapter, Egypt).
WORKSHOP
» A need for a deontological and ethical code for the Egyptian Geoscientists»
The workshop comprised three lectures and the subsequent discussion:
Geoethics: an interdisciplinary field between geoscience and ethics by Prof. Mohamed Awa ,UNESCO
Teaching GeoEthics Across the Geoscience Curriculum by  Prof. Ragai el Talhalwy, Assuit university
IAGETH and the Egyptian Geoethics code within sustainable development by Dr. Enas A. Ahmed; Egyptian Mineral Resources Authority, Cairo Geological Museum and IAGETH member
The results of the workshop (recommendations) were the following:
The need to repeat the workshop across the universities and companies related to earth sciences
To write a chapter in the book of ethics for undergraduates to teach them about Geoethics
To make a general survey (google doc) with the scope of Earth Sciences and its branches in Egypt, to learn about ethical issues in each area, with regards to sustainable development goals.
To use these results to write the chapter of Egyptian ethics code for the organization
To work on developing the culture of team work and geoethics through the work and the organization of the rules of interaction between all sectors through geoethics
To create a page for IAGETH of Egypt on the social media (facebook, twitter..etc., under the main page of IAGETH).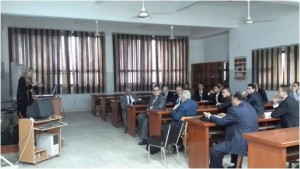 The workshop was followed by a lecture by Prof. Dr. Rajaie, speaking about his experiences through his working as a professor, then a dean of Assuit university, then as a governor of Assuit governorate.
In addition to these activities, Dr. Enas Ahmed was also invited as an expert for establishing a committee and training participants to face crises and disasters for the national UNESCO. She incorporated the geoethical approach and IAGETH activities in the context of her talk.
Please, join us to congratulate Dr. Enas Ahmed for this excellent work!