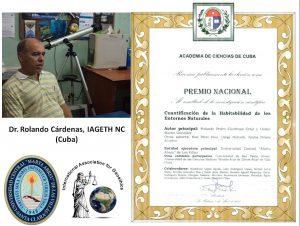 Rolando Cárdenas, IAGETH NC (Cuba) awarded the National Prize for Scientific Research
On April 8th the Cuban Academy of Sciences awarded the National Prizes for Scientific Research.
Dr. Rolando Cárdenas, the Cuban National Chapter of the International Association for Geoethics (IAGETH), together with his colleague Osmel Martin, received one of these prices for the work "Quantification of the Habitability of Natural Environments", in which a collection of publications on Astrobiology and Earth Sciences is integrated considering three schools of quantitative habitability: astrobiological, biogeochemical and ecological.
Dr. Cardenas is the Director of the Planetary Science Laboratory at Universidad Central "Marta Abreu" de Las Villas and, as he said, "of course this prize is not only mine, but of my research lab and of collaborators of other groups. I hope our joint research efforts will keep going on and contribute as much as we can to the World Heritage".
Please, join us to congratulate Dr. Cardenas for this prestigious award!