IAGETH EC and NC members in Cape Town, 35th IGC
0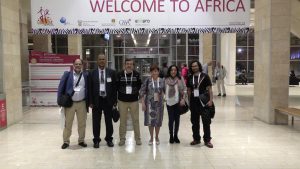 IAGETH EC and NC members in Cape Town, 35th IGC
Several IAGETH EC and NC members attended the 35thIGC in the framework of the Theme "Global Geoscience Profesionalism and Geoethics", officially representing our association, presenting geoethics-related contributions and participating in the IAGETH Business meeting.
The meeting was extremely useful to outline the main actions, activities, publications and future plans and to foster the strengthening of the National Chapters, emphasizing the importance of their coordinated proactivity, identifying the main geoethics-related aspects for each country.
*The picture shows only some of the IAGETH EC members and colleagues who were present in Cape Town (for instance, it is important to stress the name of Prof. Niichi Nishiwaki, IAGETH VP, Asia).
From left to right: Prof. José Carlos Kullberg (IAGETH VP, West Europe and NC of Portugal), Prof. Zakaria Hamimi (NC of Egypt), Prof. Lopo Vasconcelos (IAGETH VP, Africa and NC of Mozambique), Dr. Nataliya Nikitina (IAGETH First VP East Europe, Dr. Amel Barich, NC of Morocco) and Dr. Taufeeq Dhansay (NC of South Africa)